When Om Kalthoum died in 1975 the country erupted in mourning. The truth of the matter is probably that her funeral was larger than Nasser's – although 'official records' tell another story. Some say 4 million Cairenes went into the street.
Don't think any subsequent 'prominent' deaths in Egypt have/will attract much attention – either in Egypt or out.
Whilst she came from a poor family and had a thin education she was attracted to intellectuals and artists and hired the best high brow poets to develop the lyrics to her songs.
Here is a photo of a small portion of Cairo downtown mourning: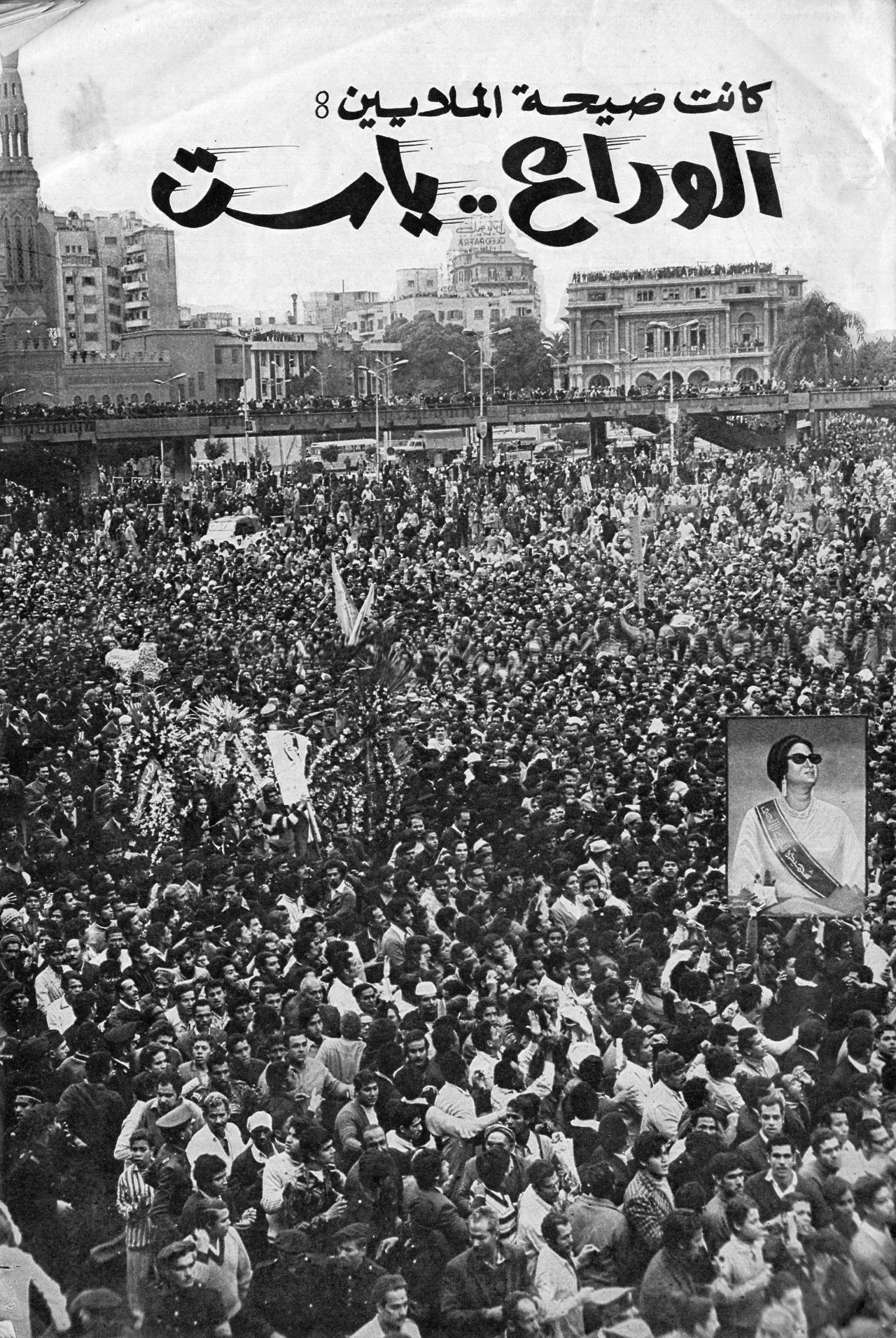 In later life she was not going to win a beauty contest but what gets lost is that earlier she had appeal. Here is a photo from 1945:
She is not forgotten - even today young Egyptian artists create positive images of her – including street artists – possibly because there is little else to be proud of:
Here is a street wall mural from Kom al-Ghurab, a poor suburb of Cairo:
Its broader than Egypt and here is one in Casablanca from 2015: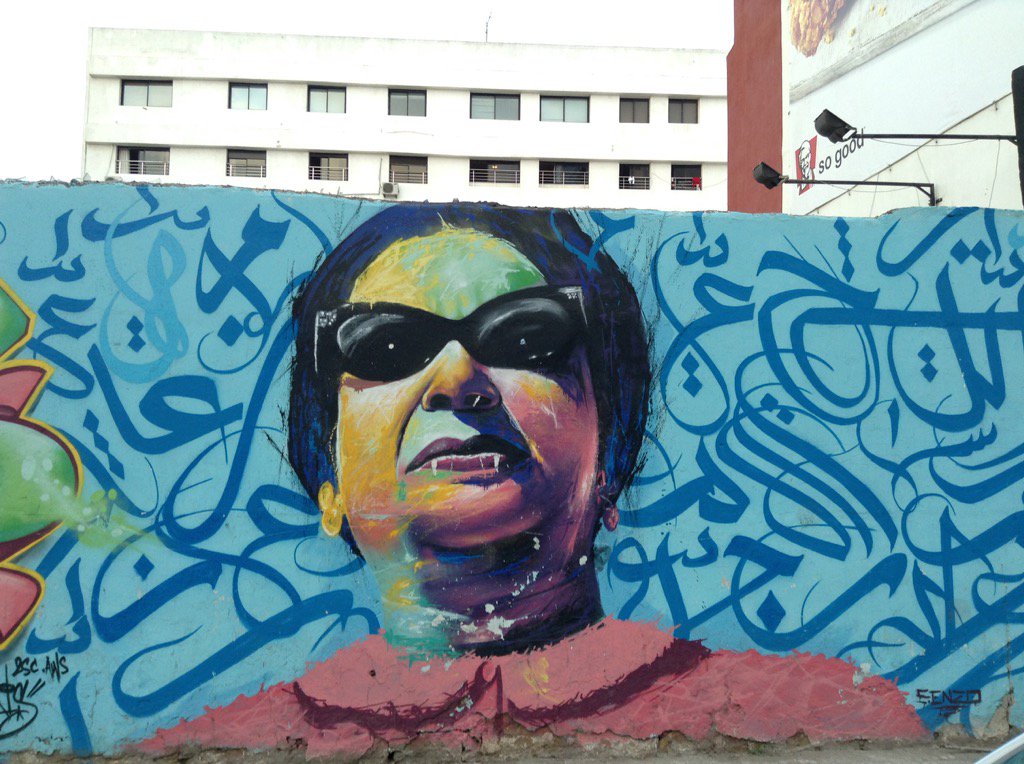 Here is another being painted by a woman in Alex in 2013:
In 2008 this appeared on a wall in Beirut – the phrase is roughly 'kiss the pain' which is both a sad and defiant message:
Its interesting that a country/region with less than positive views about women has nevertheless 'decided' to glorify her and to still remember her nearly 45 years after her death - and by young street artists.
What frequently and conveniently gets forgotten is that, after initial support, she turned on the Nasser government. They were lucky that she was not more public in her views of them. What is also forgotten is that the Socialist Musicians Syndicate refused to license her – because she had sung for the King and in a one party state that was verboten. Nasser realized this was doctrinally correct – but political suicide. I think that the Syndicates still operate on the same inflexible doctrines – and would have much to teach the Spanish Inquisition on the suppression of dissent. The Musicians, Film and Artists Syndicates are 'still at it' and now preside over a desert of creativity of their own creation.
For those with an interest in music and trivia. The Om had unique technical qualities. First she was a contralto – and that is rarely a popular range. Second her range was huge. She was able to sing as low as the second octave, and as high as the eighth octave. Her vocal cords were also able to produce about 14,000 vibrations per second. This exceptional vocal strength forced her to stand one to three meters away from the microphone. Third her private life was probably unconventional and under current arrangements she might be imprisoned. It's a bit difficult to know and discussion of this is probably illegal in Egypt. Fourth, Egypt has a shambles of a Museum (opened 25 years after her death) to her whilst the Jewish Mayor of Jerusalem has recently named a major street after her. Fifth, following her death her elegant villa was bulldozed and an ugly high-rise Zamalek apartment building erected. In Egypt the property developers always win.
Her Museum operates only an Arabic language website and may be administered by the Cairo government.
http://www.umkalthoum.gov.eg/
. Its not possible to know its opening hours and its Facebook page suggests that mainly locals go there. TripAdvisor contains no information on it or any record that western English language tourists go there. Egypt claims that tourism is vital to its economy but does little practical to make that a reality. Nevertheless it seems clear that even today she is still the most beloved Egyptian - and not just by Egyptians.