I know Justen (Luxor Pharaohs) likes to wind people up, but I can not see him posting this "Would tourists want to holiday on the West Bank a place that harbors rapists????" for a joke, can you? If he knows of something that has happened please post about it Justen (name are not required) it may help others in protecting themselves.
The reason I ask about the above is cause last week the Lady (68) who lives above me, was burgled (we reckon about 5am in the morning), I was in the building and so was the owner, but we heard nothing (she was staying at a friends at the West Bank), they got into her house via the building next door (just been built but empty) they must have got on the first floor balcony and then jumped over to her balcony and forced the balcony doors open (they are not that strong) they got away with all her Jewelry, a camera and some cash. With Justen posting about rapists it's got some people thinking what if she had been in the flat, they might have hurt her, they might have raped her, who knows. Anyway this lovely lady is now leaving the place she once loved and going back to the UK. BTW she has had a bag snatched twice by lads motorbikes in the past, one time she was dragged down onto the floor. She has just had enough.
A few months back my friends motorbike was stolen from outside our building (this was locked up too) probably just picked up and put onto a pickup truck. last night another friends bike was stolen from a busy street, but no one saw anything
These are what I know of 100% in the last month yet I hear other stories of people getting burgled, bike stolen, bags snatched, even I have heard of an elderly women who was smacked in the face by some Egyptian. What is happening here!!! I myself are losing the happiness that I once had for this place, I wish I could join in with these events promoting Luxor on how safe it is, but I can't I would just be lying to myself and others. Most of you know that I have dedicated 10 years of my life with Luxor4u and want nothing more than Luxor to be safe and bustling with tourists, but as I see it now, there is not much of a good future.
Here is some photos of the burgled flat above me, the one with the material tied to the door must have been used for them to shimmy down the wall, they had put the bolt on the door (from inside) so the main door could not be opened if anyone came home whilst they was there, other photos show items and clothes thrown out from the drawers/wardrobe.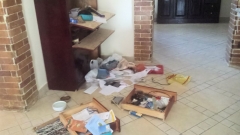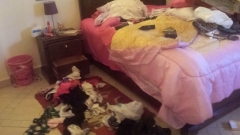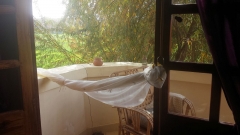 I must admit I was quite impressed with the police and army though, 3 vans full of them come to check the flat and ask questions