The February Writing Competition was set with a photograph as the inspiration. Please have a look at the photo, read the entries and place your vote for your favourite piece in the poll above.
The poll will close at 10pm GMT Thursday 28th February.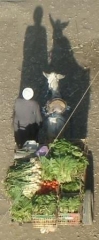 A) The Long And Dusty Road
Up in the morning for early prayer,
down to the market without a care.
Sorting out the good's, trying to get them cheap,
but where do I begin? Look at the heap.
The tomatoes look ripe but not very firm,
I think this lot is getting way past their term.
The potatoes seem good, but to much clay,
start scrapping that lot I'll be here all day.
Cabbages and cauliflower's, are also good,
have to wash them first, they're covered in mud.
He's even got broccoli, that'll sell well,
but some folks are fussy, so never can tell.
Hear we go then along the same road,
trying to sell our vegetables until all are sold.
Old Nelly and me, we're like a pair,
travelling roads, fields and pathways without a care.
The lassies will stop me and ask how much,
I try to tell them, please don't touch.
They natter and chatter and discuss all things grand,
while one or two are squeezing my fruits with their hand.
I watch them all quietly, listening to tales,
there's no interest in me, stood by my scales.
One buys carrots another some pears,
then two start to argue over a cauli, then decide to share.
Money in my pocket I re-mount my cart,
I'm seventy four next week and loosing hart.
I can't carry on much longer, getting to old,
and poor faithful Nelly is struggling to pull her load.
The women and widows start to turn out,
they must think I'm deaf, they all start to shout.
And one of the ladies, she's far to fat,
in her hast to get over, she stands on a cat.
All the piles of my neat wares,
suddenly get prodded without any care.
'How much a kilo? Never! Far to dear,
we're all poor, didn't we make that clear?'
Those carrots are bent and far to big,
do you have to hang over the stuff with your cig?
These cabbages are so large, need a wheelbarrow,
oh, I see you have a nice big marrow.
I'm following my shadow all day long,
the kids are shouting, a charging throng.
One even smacks the donkey on the bum,
'clear off' I shout 'or I'll tell your mum.'
Up this steep hill to the top of the street,
Nelly can stop a while, rest her feet.
I'll get back on my seat and shout 'gee up',
we'll soon be home to both eat and sup.
B) Journey Without End
Journey without end
Life without death
Living alive watching the shadow fall before you
Outlining life reflection of what was and what could be
Always within a grasp not attained
The shadow present
Never giving never taking
Life without death
C) Living The Life

Abdou has seen many changes in his time,
and eighty years is a long time in anyone's life.
He started as a boy of seven working in the fields,
backbreaking toil, small thanks, little money.
School work and learning he'd had non which was fine,
all he thought about was earning and getting a wife.
And if he earned money he then could provide meals,
he never had gray thoughts, his life was looking sunny.
At the age of twenty his father had died,
Abdou took over the responsibilities of the home.
His mother, his sisters, his brother and he,
now he had to work the fields for all to survive.
He soon realized that his father had not lied,
all those long years that he'd continued to moan.
And all the times he had privately thought of me, me me,
it is about looking after your family to keep them alive.
As those long tiring years past him by,
and as his mother so old was laid to rest,
as his sisters had married and moved away,
and as he now traveled the long road, donkey and he.
Abdou realized his lack of schooling had not sent him awry,
he now understood the lesson of life had given him a quest.
Hard work rewards those that convey,
belief in yourself and commitment given free rewards amply.

D) Lengthening Shadows
In the lengthening shadows of a cold winter sun,
A poor old donkey, with his life nearly done!
Wouldn't it be kinder to drive through the muck
With all of this stuff on a nice Bedford truck?
E) The End Of The Road.
This is my life
I have no wife
I live with strife
I've heard it said
The country is dead
The streets run red
No one to lead
We need new seed
Just one good deed
The laughter has gone
The slaughter goes on
Mother looses another son
The future is bleak
I hear people speak
Unobtainable what they seek
The country is torn
And people have sworn
Wished never been born
Children cower in fear
Some shed a tear
Their country so dear
End is in sight
Tunnel has no light
Can't get it right
People see the tower
The population does cower
MB's are in power
Never cast in hast
Leaves a bitter taste
Countless lives laying wast
I travel this road
Bearing a heavy load
Knowing my country's sold.
F) Another Step
Another step, another step before the day gone
I labour and work all the day long
Like sand in the desert I toil, I strive
To keep my Egypt, my family, my life alive
Do I have hope each day anew?
Only a little but seldom a few.
Wishes for better life is like cool wind in my land
Only passing with stirrings of sand.
Oh Allah to you I pray
I prostrate and murmur your praises each day
Proclaiming your greatness burns in my being
Obedience and homage adds to my meaning
Your glory is great, your benevolence to cherish
I live to serve you or perish
In Egypt this land my home.
Another step, another step before the day gone
Only to work all the day long.
The original thread for this competition can be found using this link
viewtopic.php?f=27&t=31420