Cavafy and Other Poets.
This post is mainly about the Greco-Egyptian poet Cavafy, some information on where Arabic poetry is at, and possibly useful names on writers still alive or recently dead who might be of interest.
Its also about how poets get dispirited, killed or at least driven out or shut up by nasty governments. The same is true of novelists, thinkers, composers, musicians and painters. One thing a dictator needs is for things to stay the same – which will never happen – and the other thing they need is complete control over what people think and feel. Therefore cleaning the stables, intimidation, paranoia about external forces and conspiracy theories are some of the rulers well-established tools. At the end of the day they know their hold on power is fragile even if its brutally maintained by the end of a gun as they know that their brutality undermines what support they have.
What doesn't make sense is the effort devoted to closing people's minds whereas catching the terrorists seems a Marx Brothers effort in incompetence. Maybe you need to keep the terrorist threat alive, even allow it to happen, to justify the police state, its repression and the necessity of the Junta.
Back to something better. Cavafy born 1863 doesn't fall into this category because he grew up in a cosmopolitan and tolerant Alexandria (now dead and people say history doesn't run backwards and forget the Dark Ages), came from a famous but impoverished family, kept his head down but met, god knows how, some of the richest and most cultured people in the world (subsequently kicked out of Egypt) and the most important living writers who realized his greatness. Nowadays he would be a failure – no media skills, grumpy, heavy drinker, hated travel, not attractive and shy. There is absolutely no evidence that 'Arabic' Egyptian thinkers then or now could stand a jot of him – they hated modernism and change and just wanted the preservation of the old ways.
His destiny was to be suppressed after his death, especially after the new nationalism of Nasser that expelled all 'foreign' influences to maintain the control of the new military rulers and their vulgarian, narrow minds.
Here is a 1966 drawing of him by Hockney in the Tate. Its true to type – unheroic, simple and clear, not like grand Presidential portraits :
Cavafy is the 'Egyptian' poet – but not in Egypt – only foreigners refer to him as Egyptian, although he was born, lived, worked and died in Egypt and from a Greek family. His family home and the family fortune were destroyed by the British Navy bombing of Alexandria in 1882 so he suffered with other Egyptians.
He has never been translated into Arabic just as Auden and Seamus Heaney haven't because places like the American University in Cairo are fully 'consumed' in publishing rot by Hawass and others whilst they pay third raters to translate The Cairo Trilogy. Edward Said thought they had stuffed the trilogy translation – as if they cared.
https://www.egyptindependent.com/other- ... nslations/
In Egypt he is ignored – although the expatriate Greek-Egyptian community, the Greek Government and the Onassis Foundation run the rather good museum in Alex. The Onassis Foundation has spent big money on him. His archive is preserved outside Egypt and none of it is preserved in Egypt. Western classical music is directly related to him and films have been made about his life. I met two well educated Egyptians recently, one from Alex, who had never heard of him.
There is no portrait of him on display in any major Egyptian museum or gallery and, no surprise, the American University Cairo neither publishes nor sells his poems. The Egyptian National Library contains none of his papers and, I think, none of his publications. Wonder why. The 3rd rate Harvard, Princeton, Yale and Oxford think him important but not the Great AUC.
This is not as unusual as you may think. The paintings, books, music and academic works of those kicked-out 'non-Egyptians' – many of whom had been in Egypt for centuries have generally been scrubbed from the blackboard after they were driven out by Nasser.
In his career he was a humble clerk in the Irrigation Department a job he 'despised' but one which is the very basis of Egypt. His family's personal lives were tragic and the local media attacked him as decadent which happens with anyone different in Egypt. Nevertheless he stayed and got support from the director of the British Museum, London, and the immensely wealthy and civilized Alexandrian Benakis.
He died in 1933 largely unknown and his only publications in his life time were pamphlets and broadsheets and his 1st book published in Alexandria was in 1935.
Here is a photograph of him late in life: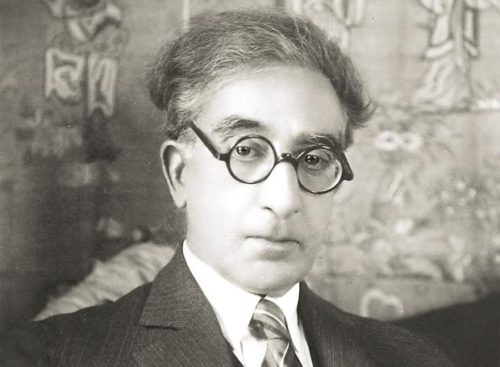 He is now regarded by scholars as one of the great poets of the 20th century and the most famous printing houses in the world issue his poems.
Literary critics and biographers tend to treat him as an island, which does describe his personal life, but forget that be was connected to an Alexandria of his lifetime which was rich, liberal, sophisticated, beautiful, harmonious and above all multi-cultural and diverse. Many were proud of their Greekness and of being Egyptian and could manage the tensions between the two. With Cavafy's poems he reflected this and tried to draw connections between the Ptolemaic past, the Alex of the 20th century and the broader world.
No other modern Egyptian poet has tried to draw straight or broken line between past and present and between the Egyptian and non-Egyptian, and nowadays it's the cheap fashion to wallow in the divisive narrow one-party-state nationalism of the present whereas Cavafy saw the wider and older world as connected with the now.
Some of his subject matter is a bit of a problem for conservatives. The 'personal' poems are about illegalities (in imprecise language) and the 'historical' poems obscure, nostalgic and half mad. Still anyone who knew about Muslim high culture would know that the classical poets of the high period wrote a lot about love and sex – including 'irregular' subjects.
Cavafy is decidedly un-Egyptian in style – concise and (generally) unrhetorical. He writes often about personal and individual events or feelings and this individualism is abhorred by traditional societies which prefer heroic, group set-piece plots, black and white morality without any ambiguity, positive views of those in authority, happy endings and lots of stereotypical historic cutouts.
Nevertheless he is regarded as one of the greatest 20th century poets because of his direct style, personal content and 'emotional honesty' He generally shuns common poetic devices--image, simile, metaphor, specialized diction and is therefore often easy to read.
Following his death his supporters the great Auden, Forster, and TS Eliot helped bring his poems to center stage. Significantly Auden believed that Cavafy could 'survive' translation – something that does not often happen and also stated that Cavafy was his greatest influence. His translators have been literary giants like Marguerite Yourcenar, the first female French Immortal whose major work was on the Emperor Hadrian and his Egyptian progress. The Greek Nobelist poets Seferis and Elytis were vocal supporters. More recently the Irish Nobelist, Heaney, wrote positively of him and acknowledged his influence.
Others think him OK. Leonard Cohen uses his lines – but of course he is a worthless Jew to Muslim ears. Major stage and film actors recite his poetry including Sean Connery and the sublime and sharp Charlotte Rampling.
International private cultural foundations (based on bequests not state managed creations as in Egypt) hold conferences on him (never in Egypt and the Alex Library stays silent about him and holds none of his papers) – I cannot recall a single international conference since his death or even on Mahfouz held by the Imperial Government of Egypt.
TV stations make documentaries about him. Universities like Harvard hold conferences on him and teach his poetry – I don't think there is even a single University in Egypt which even teaches Mahfouz let alone Cavafy. They definitely produce no commentary/critical essays on Mahfouz and a local biography on him produced a few years ago is a joke – judged by accepted standards. Prestigious printers produce Cavafy's poetry – there are no prestigious printers in Egypt.
Artists use his poetry and life in their paintings. Hockney, the world's greatest living artist, did many and they are in the Tate. Classical and other composers use his life and poetry in their music.
The overseas equivalent of the Supreme Antiques or the Supreme Artistes commemorate him possibly because they are not Generals – but no such thing happens for Cavafy in Egypt.
Most countries wouldn't care about ethnic or religious backgrounds and just be proud the world thinks one of them great. Lots of Nobel Prize winners aren't 'ethnically pure' and except for some extreme Brexiteers, we don't want to throw them out. The Greeks worship him as one of their own but his home ignores him.
Take another example which is not about sex or art. In Egypt everyone forgets about Dorothy Crowfoot who lived her first 18 years in Egypt until 1928, then studied in the UK, worked on world projects like Penicillin and Insulin won the 1963 Nobel for Chemistry, only one of 4 women ever to do so and the only female Brit. The second woman to be awarded the Order of Merit (the first was Florence Nightingale). Most would be proud of the connection but not Egypt – possibly because she was a woman. To Egypt she does not exist just as others who left/were kicked out do not exist.
Some Cavafy quotes:
You won't find a new country, won't find another shore.
This city will always pursue you.
You'll walk the same streets, grow old
in the same neighbourhoods, turn grey in these same houses.
You'll always end up in this city. Don't hope for things elsewhere:
there's no ship for you, there's no road.
Now that you've wasted your life here, in this small corner,
you've destroyed it everywhere in the world.
And:
"Don't mourn your luck that's failing now,
work gone wrong, your plans
all proving deceptive — don't mourn them uselessly.
As one long prepared, and graced with courage,
say goodbye to her, the Alexandria that is leaving.
Above all, don't fool yourself, don't say
it was a dream, your ears deceived you:
don't degrade yourself with empty hopes like these."
Links for those interested – none in Egypt or funded by Egypt:
http://www.cavafy.com/
https://en.wikipedia.org/wiki/Constantine_P._Cavafy
https://www.theguardian.com/books/2013/ ... ohn-review
https://www.newyorker.com/magazine/2009 ... ith-a-past
Long, complex and slightly acerbic analysis of technical poetry questions. Written by a great classicist, classical historian and distinguished translator of Homer. A view not generally found in the dust sweeping and hole digging of Egyptology.
https://newrepublic.com/article/62012/byzantine-heart
http://hfc-worldwide.org/blog/2015/01/27/c-p-cavafy/
A video of a tribute in NYC which includes the Turkish Nobelist Pamuk.
A concert for soprano and piano of songs to his lyrics by Mitropoulos, Hadjidakis, Theodorakis, Papademetriou, Henze, Brown, Rorem.
An article on Cavafy and his Alex by Brodsky the Nobel poet who got kicked around in Russia, declared mad twice, sent to an arctic gulag and then ran out and was the Poet Laureate of the USA.
https://www.nybooks.com/articles/1977/0 ... afys-side/
There are at least 10 separate translations of him into English which vary widely in quality. Keeley and Sherrard are generally regarded as the best – with qualifications.
One of his poems, 'Ithaca' was read aloud at Jacki Kennedy's funeral – and not because of her awful Onassis connection but read by her long term, dignified, Jewish male companion.
The humble Cavafy Museum in Alex gets a 4/5 on TripAdvisor – most Egyptian 'world class' museums, including gargantua, don't score as well. Where they do score well its often based on a lot of local and suspect 5/5's. With the Cavafy most ratings are from 'infidels' many of whom know that the once civilized Alex has now gone to the dogs. The museum is his apartment/home and has no flashing lights glamour.
The Museum is funded by the Government of Greece, its small and unspectacular display is coherent and precise and contrasts the massed chaos found elsewhere that often resembles unsorted garbage.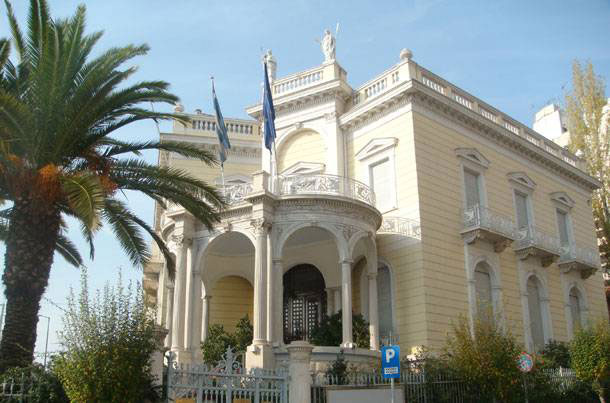 His apartment was in the then dirty 10 Rue Lepisus which WW1 troops who 'used' its services referred to as Rue Clapisus. My guess it was an Australian joke.
He was no glamorous boulevardier/flaneur.
In the modern Middle East poetry is a largely dead art which even if alive would have little impact on a people who prefer wild and turgid rhetoric and not profound and moving truth. The personal and piercing are not fashionable. Maybe the turgid, nationalistic rot of Tennyson should be taught in Egyptian schools. Modern tastes are very odd given the great Arab/Muslim literary traditions in Islamic Spain, high culture Turkey, classical Iraq, Persia and Mughal India. Egypt was never/rarely part of those traditions at that time and at no point in the last 1600 years has Egypt held much place in literature and not even in learning, science, art, medicine or mathematics. Egypt is sickened by its literary past and twice in the last 30 years has banned the Islamic crowning glory of the classical period - 1,001 Nights – unbelievable ignoramuses.
https://www.nytimes.com/1985/05/20/worl ... ights.html
The next post is about contemporary Arabic and Egyptian Poetry.