President Morsi sees 77 pct approval rating after 60 days in office.
New poll shows three-quarters of Egyptians are satisfied with the performance of the country's first freely-elected civilian president, despite his troubles in meeting social pledges.
Approval of President Morsi's Performance overall (Data: Baseera)
The results of the first Monthly Opinion tracker, conducted by the Egyptian Centre for Opinion Research, Baseera, suggests general satisfaction with Mohamed Morsi's first 60 days in office, with some 77 per cent of Egyptians surveyed approving of the president's overall performance.
Some 60 per cent would vote for him if the elections were repeated tomorrow, the poll revealed. However, that endorsement doesn't appear to stem from an outstanding performance on the five major topics of the first 100 days of his presidential programme.
This result was consistent among males and females, urban and rural residents, and only slightly different among the well educated versus the averagely educated.
The five key areas of the first 100 days of Morsi's presidential programme are: security, fuel, garbage, traffic and bread. The best improvement, according to respondents, has been in the area of fuel, where 62 per cent found an improvement compared to 27 per cent who see the situation unchanged. On the security front, 58 per cent find an improvement, while 33 per cent see no change. Three per cent see the security situation getting worse.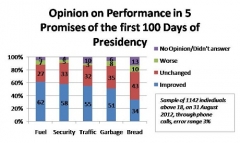 Opinion on President Morsi's Performance in 5 Key promises (Data: Baseera)
Traffic has improved according to 55 per cent of respondents, while 32 per cent said it hadn't changed, and three per cent see it as getting worse. On garbage, 51 per cent found improvement, 35 per cent found it unchanged, and eight per cent found it getting worse.
The weakest of all areas was bread, where 34 per cent said there is an improvement, 43 per cent said it hasn't changed, and 10 per cent seeing it get worse.
A sense of improvement was highest in urban areas and by far lowest in Upper Egypt, especially on the issues of garbage collection and traffic, this despite Upper Egypt holding a significant supporter base for President Morsi.
The overall trend of approval versus sense of achievement suggests that the assessment of the president's performance isn't only impacted by perceptions of daily improvements promised, but is likely also impacted by other issues, such as his decisions regarding leadership of the Supreme Council of the Armed Forces (SCAF), the incident in Rafah that called for national unity against terrorism, gathering force around the president, and Morsi's trips to the Gulf, China and Iran that received a lot of positive feedback.
On the other hand, it is likely that average Egyptians don't expected substantial change to come swiftly, and hence are willing to give additional time for the new president to get settled and work on required reforms.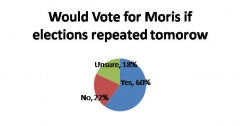 Would vote for president Morsi if elections repeated (Data: Baseera)
Meanwhile, his approval has not translated equally into possible votes (77 per cent approval versus 60 per cent voter endorsement).
The importance of the data comes from the trend, where the change in values from one month to the next reveals the reaction of the public to the performance of President Morsi.
This first set of results was collected on a broad socio-economic sample of 1142 indivduals above 18 on 31 August 2012. The margin of error is +/- three per cent.
Source: http://english.ahram.org.eg/News/52339.aspx