Inclement weather disrupts electricity, transportation across Egypt.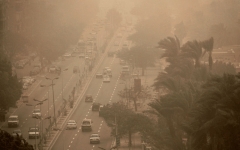 Woefully unequipped for heavy rainfall, Egypt suffers flooding and power outages due to inclement weather expected to last until Thursday.
A number of flights were cancelled and others rescheduled at the Cairo International Airport on Wednesday after heavy rains caused flooding in the Egyptian capital, delaying travellers making their way to the airport.
Tuesday night rainfall also affected traffic on several of Cairo's main thoroughfares.
In the capital's Giza district, the governor's office provided 12 cars to pump floodwater off roads to facilitate traffic flow.
Roads in Alexandria were also flooded with rainwater.
The Tahrir Doctors, an informal group of physicians formed during the January 25 Revolution to treat wounded protesters, called on officials to "save the drowning towns" of Alexandria, Upper Egypt and the Nile Delta.
In a statement, the group noted that flooding had brought traffic to a standstill in several parts of the country, in some cases preventing patients from reaching hospitals for treatment.
Egypt's Abu Qir-Alexandria train line, meanwhile, has reportedly been completely disrupted by continued rainfall.
The city of Beni Suef suffered a complete power outage due to the downpour. An official source told Al-Ahram's Arabic-language news website that the rain had caused the electricity networks feeding the city to malfunction. Work is currently underway to fix the problem.
South Sinai also witnessed heavy rains, blocking primary highways for over three hours, including the Ayoun Mousa Road, the Ahmed Hamdy Tunnel, the Abu-Zeneima Road, the Abu-Redeis Road and Wadi Firan Road. At least one car accident was reported in the area.
Maritime ports in Nuweiba and Sharm El-Sheikh, however, were not affected by the weather.
The town of Saint Catherine in Central Sinai, meanwhile, has been completely covered in snow.
On the Red Sea, the city of Ras Ghareb has only witnessed light showers, despite warnings from meteorological experts that an increase in wind, sand and dust would reduce horizontal vision by some four kilometres. The Hurghada airport is reportedly functioning normally.
Heavy rains also affected the Suez governorate, where the streets – especially those of the Faisal district – flooded over with water. Governor Samir Aglan has ordered an investigation into the cause of the flooding following numerous complaints about faulty road infrastructure.
It is expected that the cold and wet weather conditions that began on Tuesday will continue until Thursday.
Source: http://english.ahram.org.eg/News/62126.aspx