It has become a cliche to make jokes about Cairo traffic congestion. The issue has been pervasive for years and no solid solutions have been presented. While it might not be a solution for everyone, one option is to encourage cycling, a healthy and carbon-free alternative.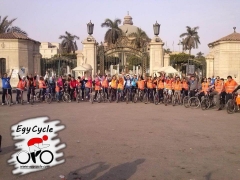 The EgyCycle initiative started like many others, with a small group of friends who enjoy bicycling. "People started liking the idea and wanted to join us, so we thought about starting the group EgyCycle," said Amir Khattab, EgyCycle director.
Beginning in 2010, EgyCycle came to life and started holding an event every Friday.
"Our events are non-competitive sports events since our mission is to make people aware of the benefits of cycling for the environment and physical well-being," Khattab said.
Once more people are interested in cycling as a lifestyle, they will begin planning and organising races, he said.
Weekly rides kick off at 7.30am from Zamalek, Heliopolis, Maadi, 6th of October City, New Cairo and Al-Rehab.
"We head to tourist attractions or entertainment venues and usually do a fun activity afterwards as a group," he said.
EgyCycle also organises cycling trips to other cities, like Ismailia, Fayoum, Ain Sokhna and even Aswan, usually starting in July until September.
The shortest trips are those to Ismailia and Fayoum, which only take three to four hours, whereas the longest one is to Aswan and takes up to 20 days. Khattab said participants usually camp along the way and that EgyCycle provides them with all they need.
"There's usually a bus accompanying the participants equipped with everything they could need on their way," Khattab said, adding that there is always an accompanying doctor.
Not anyone can participate in the cycling trips, since it takes a lot of practice and strength. Before going on the trip to Aswan, participants have to pass an examination to prove that they can handle weeks-long trip.
"If the participant is not a member of the group, he or she has to go through more than one examination," Khattab said.
Anyone can participate in the weekly events of EgyCycle, even if they don't have a bike. Those interested just have to purchase a ticket before and they are given a bike before the event.
Source:
http://www.dailynewsegypt.com/2013/06/1 ... -to-egypt/