The Egyptian presidency issued a statement Thursday afternoon condemning the bomb attack that targeted Interior Minister Mohamed Ibrahim's convoy, vowing not to let those who committed the crime escape justice.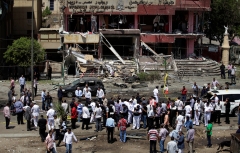 "The presidency will not allow terrorism, which was defeated by the people in the 1980s and the 1990s, to return once again," read the statement in the name of Egypt's interim president, Adly Mansour.
"The Egyptian state vows to the people that whoever stands behind those terrorist crimes will not get away regardless of their political affiliation," it continued, adding that the Egyptian state will not be prevented by these terrorist attacks from completing its transitional roadmap.
The minister survived the bomb attack on Thursday unscathed, although 21 people were injured, including a child.
No group has as yet claimed responsibility for the attack.
In the 1980s and 1990s, Islamist terrorists carried out numerous violent attacks in Egypt, typically targeting state institutions, foreign tourists or local Christians.
Source:
http://english.ahram.org.eg/News/80890.aspx