The Nile River and its branches in several cities and villages in Upper Egypt have turned to a "river of sand" due to bad weather conditions over the past four days.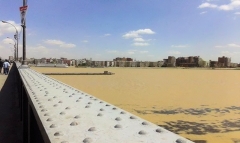 Sohag governorate's water and sewage authority announced that it would close 15 water stations in several cities, including the capital city of Sohag, for more than 48 hours because of the Nile's increase in turbidity.
The authority will depend on its water reservoirs during this period.
More water stations are expected to be closed throughout the south, the authority added.
The Nile's sharp rise in turbidity – or muddiness – came from heavy rains earlier this week that displaced sand from mountains and hills along the banks of the Nile in Upper Egyptian villages and cities.
Many villages in Sohag, Assiut and Qena governorates have been suffering from a lack of water and electricity due to the rainstorms.
Source:
http://english.ahram.org.eg/News/96600.aspx