Weeks ahead of the Coptic Christmas, which is celebrated in January, Lateef Fayeq takes time off his agenda to make sure that his family is well-prepared to mark the event, a major festival for Egypt's Coptic Christians.
Unlike other Christian denominations, like Catholics and Protestants, who celebrate Christmas on December 25, Egyptian Copts mark the occasion on January 7.
The difference in the celebration dates is the result of following different calendars.
The Western Christian Church follows the Gregorian calendar, while the Eastern Orthodox Coptic Church follows the older Julian calendar, named after Julius Caesar, who introduced it in 46 BC.
The latter corresponds with the ancient Coptic calendar.
Copts account for the majority of Egypt's Christian community. "We usually start our preparations for the eid [feast] in late November, when we begin fasting for 43 days, which ends on the eve of Christmas," Fayeq, an employee at a travel company, told Gulf News.
"During the fast, we abstain from eating meat, poultry and dairy products — virtually every food that comes from animals. Instead, we survive on vegetables. We are also allowed to eat fish during the fast."
Fayeq is a 47-year-old father of two girls, Maria and Mariam, aged 13 and 10, respectively.
As part of pre-Christmas preparations, he and his wife traditionally buy new clothes for the family to wear on the feast.
The family's house is decorated with the Christmas tree and colourful ribbons heralding the advent of the festival.
Fronts of stores selling Christmas goodies in Egypt are festooned with light decorations.
"Khak [cookies] is a must-eat delicacy on the eid," said Fayeq's wife, Um Maria or the mother of Maria.
In mostly conservative Egypt, a woman is addressed in public by the name of her eldest child.
"For us, the Christmas feast is like Eid Al Fitr for our Muslim brethren," she said.
Festive cookies are traditionally popular among Muslim Egyptians on Eid Al Fitr.
On the evening of January 6, Copts observe a complete fast — refraining from drinking and eating from 3pm until midnight.
"After attending Christmas Mass in church, we break the fast by eating eggs, meat and poultry," Fayeq said.
"On the morning of Christmas, we wear new clothes and go to the church — this time to attend celebrations held for children and exchange greetings with others," he added.
"During the day, we visit our relatives and go on picnics."
Like their Muslim peers on major Islamic festivals, Coptic children receive cash gifts from their parents and relatives for Christmas.
A major dish during Coptic Christmas is fattah, a mixture of rice, meat and crispy bread.
The dish is also a staple for Egypt's Muslims on Eid Al Adha, Islam's major festival.
"Traditions, which are rooted for long years in Egyptian history unify Egyptians, Muslims and Christians, against forces of darkness and radicalism," said Fayeq.
"Aspects of celebrations in Muslim and Christian feasts in Egypt are strongly and significantly similar," he added.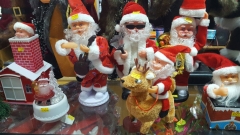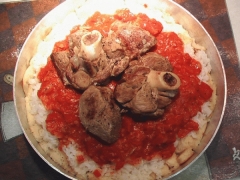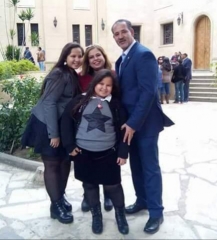 Christian goodies on display at a Cairo store.
Egyptian Fattah is a dish eaten mostly in special occasions
Coptic Egyptian Lateef Fayeq (right) with his family at a Cairo church.
The Coptic Christmas is a national holiday in Egypt.
Christians make up around 10 per cent of Egypt's predominantly Muslim population of nearly 100 million.
Since taking office in 2014, Al Sissi, a Muslim, has regularly visited the Coptic Orthodox cathedral during the Christmas Mass in a gesture of peaceful co-existence between the country's Muslims and Christians.
In the same vein, he ordered the construction of what is described as the Middle East's largest church in Egypt's new administration capital being built on the outskirts of Cairo.
He made a Christmas visit to the new church earlier this year.
"This partial inauguration of the church is a potent message of peace, security and love from Egypt not only to Egyptians, or the region but to the whole world as well," Al Sissi said in televised remarks at the time.
Source:
https://gulfnews.com/world/mena/christi ... t-1.956436