Bastille or Bombast.
Many will know that the Cairo Film Festival has attracted bad attention. The one with the 'see-through' dress struck me as showing poor judgment given she was about 20 kgs over weight and should hide not reveal that. I thought her face and body would have been best covered with only her eyes showing. I think she's now in jail under the following democratic statute - Sisi doesn't like it so send it to jail.
The police reaction in 2018 is odd because an actress wore this last year at the festival and there was no screaming at that time.
Now there is a new scandal which smells like the type of poor judgment and management typical of the period immediately prior to the storming of the Bastille/Winter Palace.
Its an $US11 million dollar dress covered in diamonds and worn by a nobody Lebanese actress at the closing night of the festival. The regional media but not the Cairo media covers it.
https://english.alarabiya.net/en/variet ... Cairo.html
This is what it looks like. Dated, conservative, screaming, shiny and again with a fat model. Very Egyptian. A publicity stunt with the cost and other facts entirely unreliable.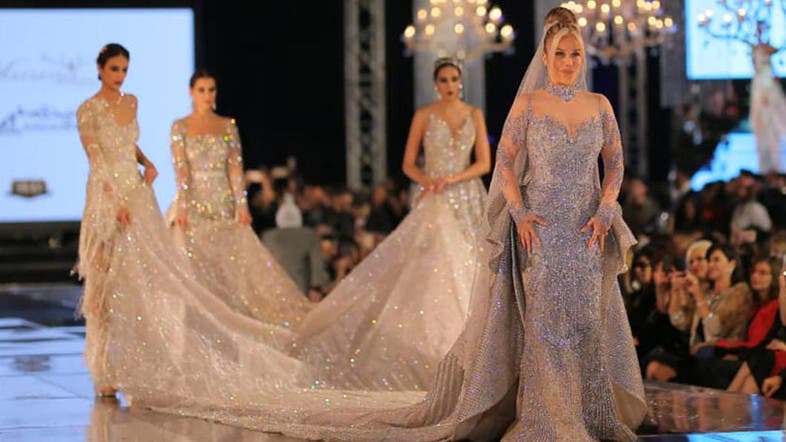 The 'designer' is Cairene, Hani el Beheri who seems to follow the Cairo fashion in his facelifts – poor surgical skills and dreadful taste - a bit odd for a man in his 30's.
Interestingly the bulk of his show-off tat are wedding dresses using design principles from 18th or 19th century France – always glittering/shiny.
Some of it is so overdone you are tempted to think he's aiming it at a transvestite clientele.
Other 'ideas' are just stolen from '60's Rome – note the trousers glitter beyond belief – very odd for day wear, if it is day wear – I'm a bit confused about where it might 'fit in'. Nothing wrong with using the past but you need to be innovative - a mortal sin in Egypt.
Another wedding extravaganza, glitter and tiered like a wedding cake.
He also does stripper/transvestite/attention-seeking/dominatrix clothing.
What he doesn't do is interesting because it tells you about the client's lives. There are no suits, no trousers, no business wear, no shorts, no hats, nothing well cut, few patterns, lots of lace and I suspect the materials of inferior quality and/or synthetic. These don't look like clothes for a hot and dusty climate. Its hard to know but the general picture from the above is that money is exploding, showing off de riguer and restraint very unfashionable, No sense of caution or fear.
He is completely ignored in the west and by western magazines and is a show-off joke and therefore placed to do well in the Cairo pond. Al Ahram and Egypt Today think him a giant/genius.
I could be missing something. Maybe the region is full of old fat woman who just want to flash it like the woman in trouble at the festival.
Here is the world 'designer' with the 73 year old Lebanese 'actress' Lebleba. Note the base of the dress – all 50's Spanish flamenco – not a well fitted for a woman who could loose 20 kgs.
The local media state he is a 'world designer' and attracts western celebrities. Both these statements are lies and they mention no western celebrities.
4 years ago he did a 5 km bridal veil – maybe the customer was grossly fat.
http://english.ahram.org.eg/NewsContent ... h-km-.aspx
Another silly and not talented show-off that Egypt thinks great.
At the other end of the spectrum – or concentration camp line, is the prominent Paris House Chloe established by Gaby Aghion of the famous Alex family known for culture and superb business sense they moved with writers, composers and artists as they ran their businesses without corruption or locking up tens of thousands. Unlike the army they paid their taxes and were generous to charity – both Jewish and non-Jewish.
Gaby and her family were kicked out and their assets stolen by the 'Great' Nasser.
She established Chloe which soared to success, well she was a skilled woman and creative – things that would have been punished in Egypt. In particular, and unlike the Cairo monkey's, she was innovative and first developed the prete a porter concept which allowed the great houses to move away from E80,000 dresses and into a high quality mass market. Jacki Kennedy, Callas and Grace Kelly were her clients not fat old Cairo madams. She hired Largerfeld who pushed her firm further and then she sold to the South African Richemont luxury firm (Cartier, van Cleff, Jaeger and the superb IWC etc). Her customers had taste and quality and knew that the best always stood out (for those with eyes) and didn't need a brass band to attract attention from the dribbling masses.
Fully owned salons on all continents except Antarctica whereas no Egyptian fashion firm has ever had a single shop in any place and its so-called luxury items sell no where outside Cairo – lack of skills, poor taste and most of all dreadful tailoring/cutting and poor quality/show off materials.
.
Can anyone think of a single designer in 70 years to come from Egypt and have even humble success in the wide world. Maybe that tells you something about good and bad taste.
Here is a person that doesn't need to make a point about her Jewish Egyptian dress. The dress suits her – perfectly – and not the other way around.
Here is her unusual modernist family home in Alex before 1952 and designed by the prominent French architect Perrett – Egypt has no architects. Eves and sun-breaks and many other design features to mediate the environment – entirely absent in modern Egyptian upper class houses.
https://invisu.inha.fr/_contents-images ... pg_430x570
. Can anyone think of a single international architect who has designed one of the many $US15 million houses for the crooks in the last 70 years.
It was seized and 'cared for' by the Supreme Antiques and before its bulldozing by a friend who needed to make money looked like this. Amazing, an asset left derelict for 70 years, contents pillaged and you end up with a mess.
You could have given a garden or a community building to the people but why do that when there is money to be made – after 70 years of sitting on it.
Chloe was a major world designer from Egypt but I can find no mention of her. Wonder why. She joins a long list including female Nobel Prize winners that are never mentioned because they were tossed out as trash and went on to find a diamond mine. If the Junta has got the trash tip out wrong that raises interesting questions why they are running the place and running it so badly.