Two important discoveries in Luxor by French archaeological missions were announced by the Egyptian antiquities ministry on Friday.
The first was at the Ramesseum temple on Luxor's west bank, where the tomb of a divine royal wife called Karomama was accidently discovered within the walls of temple.
The ministry's head of Ancient Egyptian antiquities, Youssef Khalifa, told Ahram Online that the tomb includes a five metre-deep shaft leading to a burial chamber with a stone door. Inside the tomb excavators unearthed a collection of 20 ushabti funerary figurines of Karomama, and the remains of offerings.
According to Khalifa the discovery is important because it sheds more light on the queen, about whom little is known. The only previous funerary collection of Karomama includes 12 ushabti figurines, two canopic jars and a bronze statue now on display at the Louvre in Paris.
Until now, he said, the king she was married to has not been identified, but this information will be revealed after further studies of the tomb.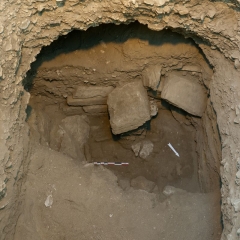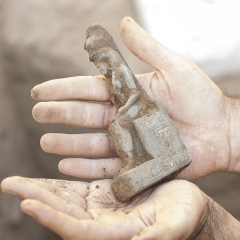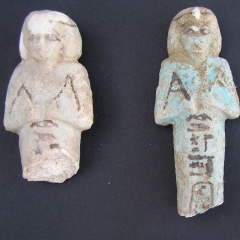 Karomama's shaft tomb - Osiris statue at Karnak - ushabti at Karomama tomb
The second discovery was at Karnak temple, where the French mission unearthed a collection of Late Period artefacts, including three small bronze statuettes and a pot containing the remains of blue glue.
The ministry's director-general of Upper Egyptian antiquities, Abdel Hakim Karar, told Ahram Online that the statues were offerings to gods presented at the temple.
Two of these statuettes are carved in bronze and depict the god Osiris sitting wearing a wig and the double crown on his head. The third statuette depicts an as-yet unidentified god in a standing position, decorated with hieroglyphic text.
Excavators are cleaning the statuette in order to reveal the god's name.
Source:
http://english.ahram.org.eg/News/117752.aspx