Greco Roman Museum Alexandria.
The Supreme Antiques are at it with energy, focus and attention and this museum is to be re-opened later this year.
As usual they think bricks and mortar will fix problems or improve the situation when the main problem isn't physical assets but the absence of human assets to display, conserve, adjust displays and, for most have a book/pamphlet that tells you what you are looking at. In countries that don't have 77,000 staff in their antiques/display areas there are tape systems via head phones and assistant curators who give a better view than most of the money obsessed, egotistical and often sleazy tour guides.
I would love to know - actually I'm certain I know - whether there has ever been any formal study in questionnaires and 5 minute interviews of what Egyptians and tourists want from museums, what they don't get and what they get that they don't like. This simple methodical approach is anathema to the way in which Egypt does business. Museum visitors are regarded as relevant to museums as citizens are to the government of their country.
As with all positive stories about Egypt the truth is very different and al Ahram and the Minister full of lies.
http://english.ahram.org.eg/Media/News/ ... 73-402.jpg
The Supreme Antiques say the 'renovation' started in 2018. If true, doubtful, that means that nothing happened for 13 years and 'old timers' would say that would be no surprise.
More reliable others, could there be anything less reliable than al Ahram, Egypt Today or an Egyptian Minister, say its been closed since 2005 – I think a bit longer.
https://egyptianstreets.com/2018/12/19/ ... n-in-2019/
Al Ahram runs this photo of the 'renovation' which I think indicates that the work (broad definition) is being done by people who often blow things up – usually the wrong things/people.
Al Ahram confuses the issue by running photos as part of this article on the catacombs which are not part of the 19Th century building but maybe al Ahram doesn't know that.
One object confirms my view that the quality is so low these should be in storage until they can find something vastly better (not that they are looking although that sleaze from the Domination Republic 9a claimed lawyer with no archaeology quals whatsoever) and 'great friend' of Hawass is in her 12 year with, according to Hawass. 100 staff paid for by the poor Egyptian taxpayer who has not had the Benefit of her universal affection she widely 'distributes'.
The Museum starts from a low base and an amazingly poor stock of objects for a 700 year period and much inferior to the holdings in Tunisia, Libya and Morocco – with these having a stronger Roman emphasis. As with all other museums its quality not quantity, clear information, lighting and space and lots of other things that will not happen because they thing a new building/$US50 million will fix all problems – it wont but firing 20,000 staff might be a start.
It also starts from the fatal congenital disease of all Egyptian Museums – they don't know the beginning of displaying things.
Some examples.
Note this crowded confused room and that the plinths lack uniformity/add to the chaos because they are variable heights and colors. Note that more than half have received the Sisi treatment – they are missing their heads. The 5-6 I can see are in dreadful pitted state. There are no spotlights, in fact no electric lights I can see and the natural light appears irregular and patchy. It could be worse – we might have to talk to the Museum Director for an hour.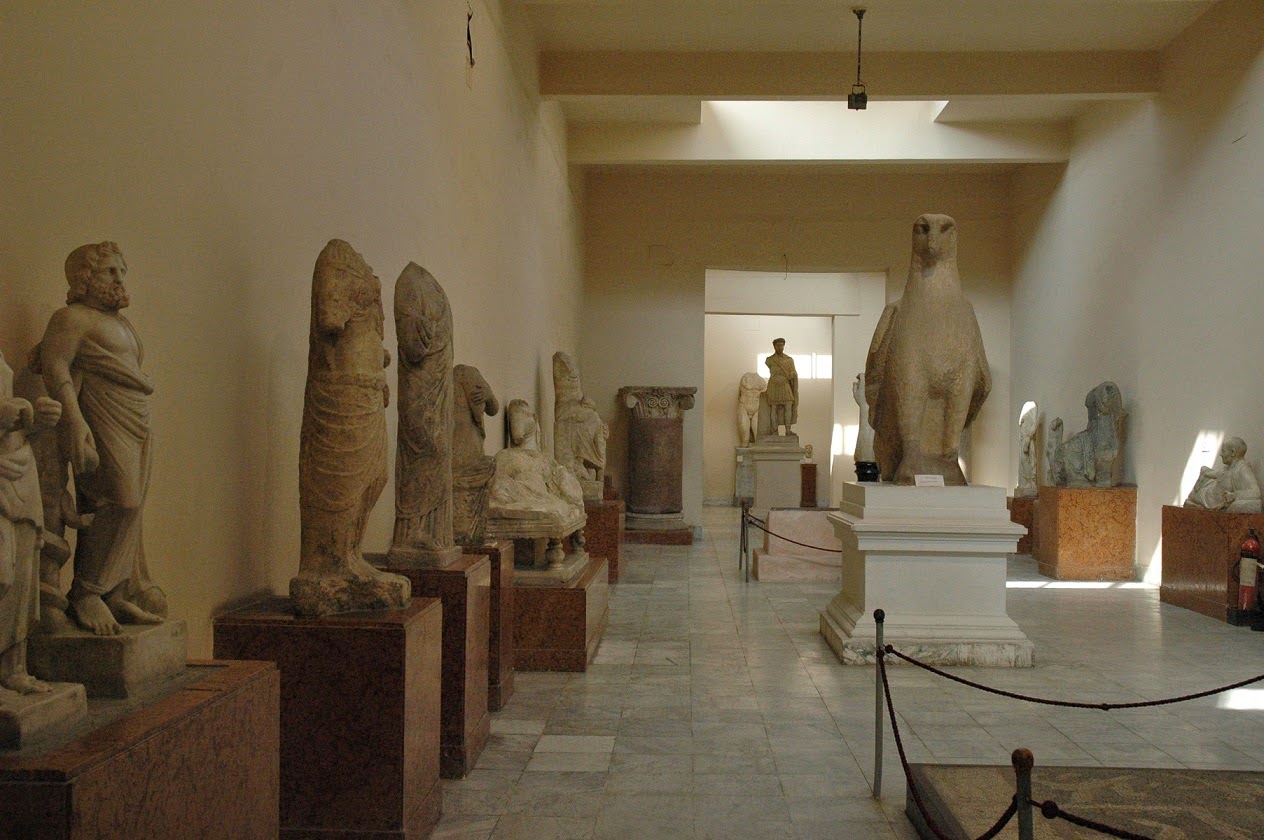 Algeria, Libya and Tunisia, have quality, especially mosaics, but Egypt has surprisingly little sculpture of quality and almost no mosaics and quality pottery whereas the other countries have oceans and of the highest quality. How could these Roman and Greek giants have been in Egypt for 700 years and left so little. Its just impossible. Maybe the Egyptians don't like nude statues, pottery or 'reliefs'.
In the later period how could the Byzantine religious mosaics and icons at Ravenna and Istanbul be the greatest in the world but those in Egypt non-existent or of the lowest quality possible even though Byzantium ran the place for 200-300 years? Were they destroyed by the Arabs or were local skills the worst in the Byzantine world? Has no-one gone looking/digging? Surely the Copts preserved something/did something in that style – if so I can find nothing.
For a city named after Alexander it has discovered little about him and purchased less about him.
Here is the best mosaic I can find, the face is rough. its allegedly Medusa but doesn't look like a woman:
Meanwhile objects like this are left out in the heat and dreadful smog: A renovated building won't fix the stupidity and laziness that led to this.
Notice what the idiots have done. They have 2 near identical marble baths 10 feet from one another. A sane human being would split them and put the second in a museum. An idiot would say they stay where they were found the response to which is liar – it's the forum/amphitheater area. Vehicle pollution destroys and discolors marble.
https://www.unece.org/info/media/news/e ... -risk.html
Notice that all are propped up in an anarchic way with red house bricks the color of which will seep into the marble. The surrounding area looks like a tip and could be fixed for 500 dollars – and a director with a brain.
Before they closed they had everything on display – junk and not junk. In the Greco Roman 'garden they had them propped against some wall. On reopening they would gain from firing the staff who did this and other idiocies.
The rest of their garden was a chaotic mess the main features of which were modern pot holders and garden hoses. Again a consistent display is simple whereas putting a Rolls Royce in a Hollywood Western is madness.
Pottery heads were indexed for everyone to see – sort of.
Their glass was displayed in a way otherwise unknown to man – or at least homo sapiens.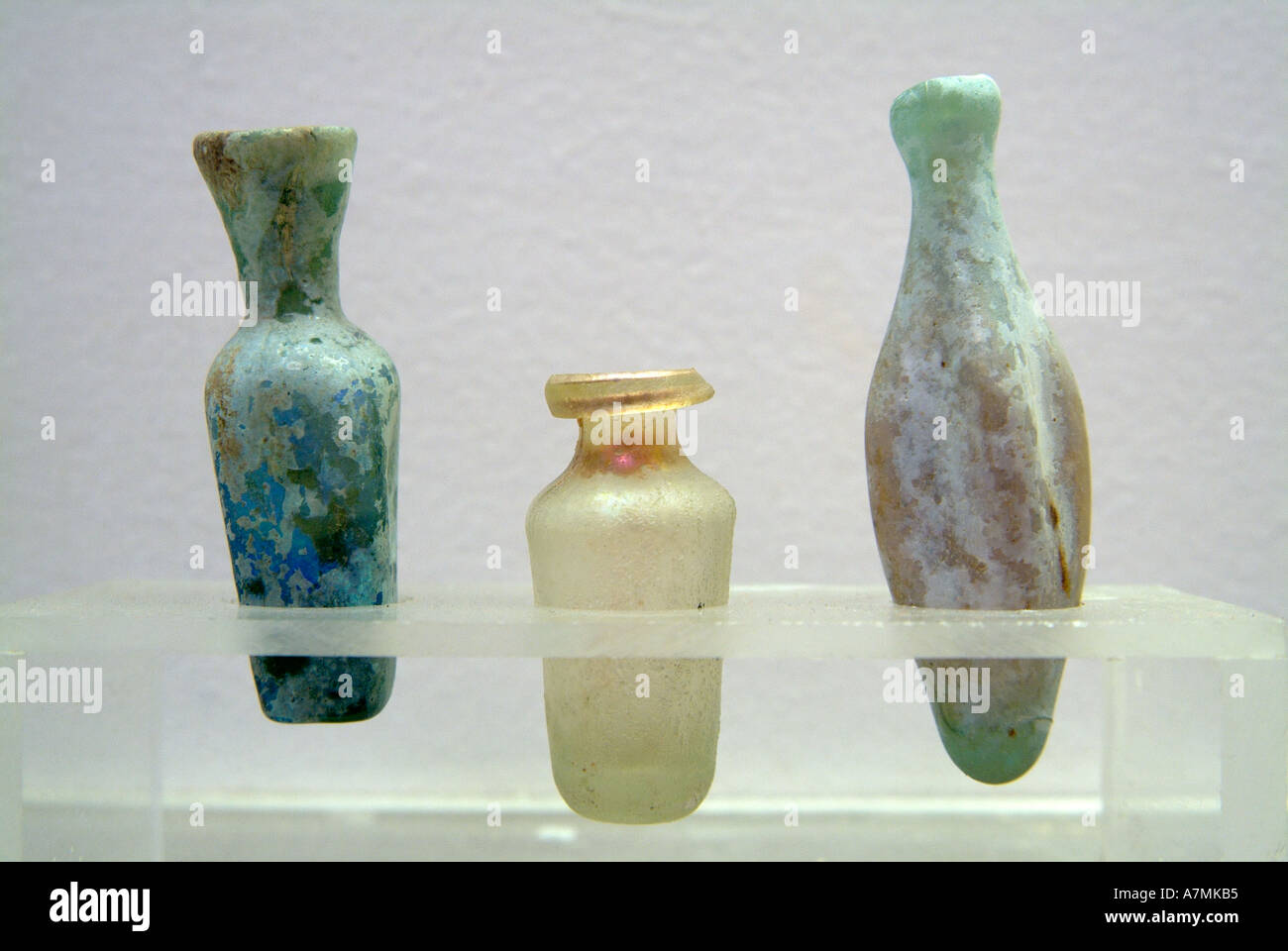 Prominence is given to everything and nothing is undeserving of display. Maybe they should display the modern toilets.
The Supreme Antiques say this is Augustus – maybe. Surely the bust of the Emperor is done to a high standard. What is certain is the pitting and weathering of the marble and the poor quality of sculpting. For clarification read the minute description on the 100 year old metal plaque at the base. Its hand written.
Things are just banged together so to speak – notice the deep pitting on the right.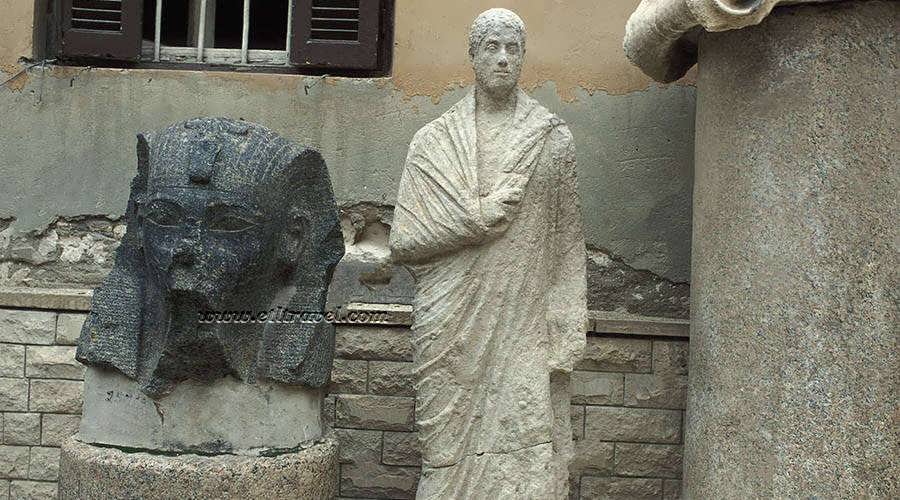 Here is another bizarre arrangement – the big and the small and a dismembered arm. My garbage collection man organizes things more rationally. (presumably the arm is of a shot-putter). The plinths are different volumes.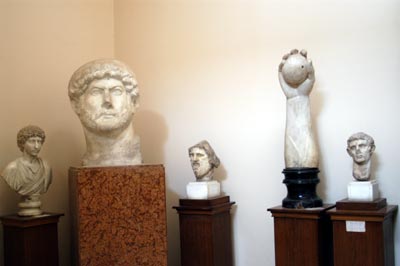 In case you missed it the different sized busts are at different heights to add order to chaos. Clearly balance and order are not in the local DNA
Given they display little that they should display they show much that they shouldn't under the Debauchery Act. Here is an odd realistic statue (in limestone which explains the weathering and its in the Alex collection of Antinious, the lover of the Emperor Hadrian and who drowned in the Nile. He was proclaimed a god but little is known of this and little remains of the city named after him. (Just Nth of Mallawi at el-Sheikh Ibada)
(after his death thousands of busts, some of the very highest quality, were made all over the Empire and there isn't a collection in the west that doesn't have at least one of high quality).
In 2010, work began on a mosaic museum, to be built around the temple of Ras el-Soda and there is a deal of debate about what it is. Why a mosaic museum when all that is already on display is third rate and in small volume compared with the spectacular finds in Tunisia, Libya, Algeria and Morocco is beyond me – all those locations place the Roman and Greek (spare bits) together in one place and don't split things up. Debate is useful and the beloved property developers win the day as you can see from the following.
The relative absence of bronze busts, related images and ceremonial swords and spears is very strange. I wonder where they 'ended up'? I think I might know.
As with all problems the librarians always have the answer. Here is the Biblotechia Alex.'s scaled down 'in house' version of a site with some odd statues and a foot/sandal on a 7 foot wooden plinth – it doesn't get any better and the taxpayer is sure to applaud the great expense. All sites should be duplicated and all libraries should become museums – according to some.
I can find little/nothing written by Egyptians on this 600 year Greco-Roman period yet it is their own history of a period when they were at the center of the world or immensely powerful – very strange.
There are some better fresco's/paintings at St Catherine's but I think they have been touched up a bit too much – a probable in a monastery where touching up is not unknown. That these objects, including manuscripts, are better preserved might have something to do with the fact its not a Copt hole, but Greek Orthodox and that the Supreme Antiques are kept away.
You would bet that Alex would have found or acquired something special of Alexander the Great – but no, this is their best heavily worn and stained, presumably marble. It could be worse – but hard to find worse.
I can find no university in Egypt which teaches this period in part or whole from any angle – religion, politics, culture, philosophy, mathematics, medicine, geometry, cosmology, science, economics etc and I doubt that the dreadful so-called local archaeology training schools deal much with this period. It's a long time since Egypt produced a 1st class archaeologist or historian – possibly never.