Tut's Tomb Restored.
It's the major site in Luxor that most must see and the center of all that the Supreme Antiques do best – so to speak.
Odd that no one knows who the Supreme Antiques are – their names, qualifications and skills are a Supreme secret but I guess all countries do this to protect the national security of their heritage - or not. The security of the country depends on the anonymity of its leaders.
It's a bit unclear what Egypt's skills are with building restoration and/or whether the above and other western funded restorations are just money extortion exercise. Put another way does Egypt actually have restoration skills on buildings and does it have a history of planned care and maintenance. Does it really care or is this area like its economics and politics – always waiting for a bailout.
For example its near certain that Egypt has had no survey done on its buildings and has no assessment of their problems/needs and therefore no 5 or10 year program to deal with them on a priority basis. Such an program would accept that not all can be saved and smart people would use that to then sell/dispose of these low priority items/buildings and use the money on the higher priority.
If you asked me whether the Supreme Antiques have taken account of the effects of climate change on their portfolio (broad and vague definition) then I would say definitely not and if proven wrong will make a $US100 donation to a charity nominated by the person who can prove me wrong.
The Supreme Imperial Antiques have made a big announcement – King Tut is fixed – no not the beard, no not the household glue (done by a senior and supremely expert staff at Tahrir not a junior person and then fixed by a German team flown in) but the grave.
Its been done by 'outsiders' which is a bit like a Chinese firm doing a restoration of the Statue of liberty or a Brit restoring the Mona Lisa.
Egypt does not have the skills to properly care for or restore Tuts grave. That deficiency is quite an achievement but entirely the objective of Hawass who denigrated science and romanticized the dusty Indiana Jones priority so that he left his people, as if he cared, in a Temple of Doom. He didn't do much digging/work anyway and the Greco-Egyptian Golden Mummies was his usual pack of lies.
As with all things in Egypt the locals have an entirely different view on what has actually happened and it paints a view of glorious Egyptian achievement. Meanwhile those that actually did the work and paid the bills employed not well born Egyptians and such people never get mention in the Egyptian Military media.
Here is al Ahram's version of the Tut Glory Project.
"Conservationists, architects, environmental specialists and scientists began with nearly five years of analysis that found environmental impact as well as visitor damage including graffiti, scratches and lost items.
"The water vapor produced by visitors' breathing affected everything in the tomb," said Hussein Shaboury, an arts professor at Alexandria University, adding that it had also been hard to breathe there.
"We had to change this and create a method by which fresh air enters the tomb, and air is circulated in a way where all the air in the tomb is changed in 30 minutes."
https://www.reuters.com/article/us-egyp ... SKCN1PP2WM
Odd that the Getty that did the actual work said it was 5 years – unfortunately 5 sounds less grandiose than 10. In typical fashion Egyptian media quote a person who had nothing to do with this whatsoever but it looks 'good'.
The creature Shaboury would know all about Tut and tombs. His main job isn't teaching kids but running an interior design consultancy which doesn't do tombs, stone, primitive ventilation, wall paintings, science, atmosphere measurement etc.
As usual in Egypt some idiot makes himself an expert and even claims credit for work not done. The Professor has a shocking education which includes not one second on antiquities nor the history of Egypt nor science. Like many Egyptian academics they do little actual teaching (its too demeaning and humiliating) and a lot of money making during the time the taxpayer pays them to teach. I can find noting he has ever published – even his own cv, he's 73 years of age, mentions nothing so its reasonable to assume he has spent half a century in Egyptian universities and done nothing.
http://www.fineart.gov.eg/eng/cv/cv.asp?IDS=1956
The people that did the work and paid for it, The Getty, have the usual – clear stated objectives, firm work plan and lots of transparency for people to follow what they are doing and why. They don't like hysterics or stating views on matters where they have no qualifications.
On the other hand the 12 year butchery of the Step Pyramid by the Supreme Antiques used local contractors with no experience – one company specialised in making modern porcelain toilets, and an idiot supremo in, allegedly, Engineering Conservation from Cairo University. It got so bad UNESCO came in with a clenched fist (presumably they were paying for it) and were clear for once about the mess. In particular they accused the Supreme Professor of lying, incompetence and destruction of evidence to cover his responsibility. Interventions from outside are rare but always tell the same story – worse than hopeless management. Advisory Mission to Cairo_ICOMOS_WHC_November 2014_rev WHC 5.12.2014.pdf UNESCO must have been angry because they published the dirt - something they rarely do.
The Step-pyramid showed awful management and dreadful technical skills on a major project. The problem had existed for years, the locals refused to solve it and a major UN body had to come in with a team of international experts/arbitrators to fix it. I wonder what the small projects are like.
Unlike Giza or was it Geyser, all the senior and management staff on the Tut project were US, thank god, and looking at staffing levels this seems a $US3-5 million project – maybe more but the Getty isn't like the Junta they know that lots of money without a brain produces a bad outcome..
The scientific work on Tut was large, broad and complex and I'm certain that in not one area of science undertaken in this project do the Supreme Antiques have a single resource. Hawass's views on science are well known and he stuck to the Indiana Jones bull and crippled his organization for another decade.
http://www.getty.edu/conservation/our_p ... tific.html
The Supremes (no not the female US singers because the Supreme Antiques (12) has never included a woman and never will without a revolution) will deliver on new arrangements for Tut visitors which is 30 years late because this is the public ramp horror they will remove after 1 or 2 generations. Its beyond belief that they could not have spent a thousand or so on this a few decades ago and got rid of it – but work is not their forte – just posturing.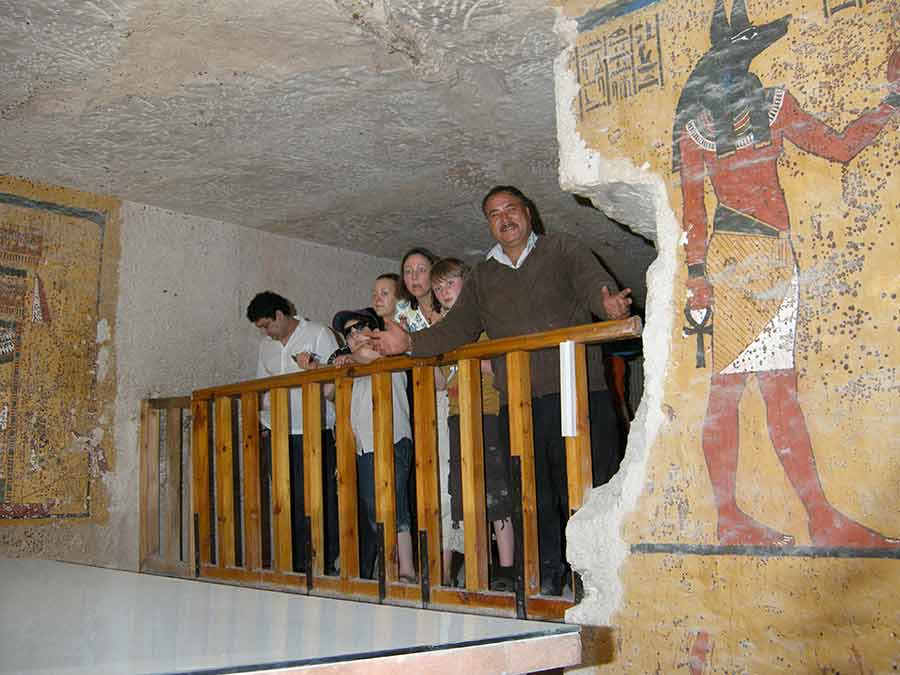 I can't recall seeing the gouging out of the wall on the right of the photograph. Its difficult to interpret - is it modern? Does anyone know anything? The near horizontal top to the gouge suggests human (broad definition) action or negligence.
The Getty has helped in the past although the Supreme Hawissites often don't like giving credit to anyone but themselves.
Twenty years ago, Getty staff worked with Egyptian colleagues and an international conservation team on the conservation of the wall paintings in the tomb of Queen Nefertari, wife of the powerful ruler Rameses II, in the Valley of the Queens. Other Getty collaborative work with Egyptian authorities has included the development of oxygen-free, nitrogen-filled display and storage cases for the Royal Mummies in the Egyptian Museum in Cairo, an environmental monitoring study of the Great Sphinx at the Giza Plateau outside Cairo. Currently, the GCI is also collaborating with the SCA on the development and implementation of a conservation and management plan for the Valley of the Queens.
I suspect that like other western funded projects, once the money givers have left, the project is turned off and even when they are in Egypt they must keep quiet, hide if the media come and call an Egyptian to do the front and hope he, always he, knows how to locate the site.
As you do if you are professionals, the Getty has produced articles and conference papers on the Tut work. Other places produce nearly nothing – except 3rd rate coffee table books and take the money for such.
The Getty employs people from all continents on the basis of merit. The Supreme Antiques employs only Egyptians and very few of those are Copts and they have no merit based selection or promotion systems. Women are prominent in the former but absent in the latter. Because agnosticism and atheism are either illegal or disapproved on in Egypt these people – including 85 current Nobel Prize winners won't be employed or could be jailed by Egypt. The Getty employs gay people, Egypt jails them.
The Getty has a superb collection of 19th century photographs of Egypt and these are freely available. The Supreme Antiques have no such collection and if they did they would not be posted on the internet and definitely not free.
It is certain that Jews were employed by the Getty so the contents of the tomb should be burnt immediately. The overwhelming majority of the Getty team were women so another reason for cleansing to restore Egyptian values. There was not one woman employed by the Egyptians on this matter – thank god, but I'm sure those who think women are treated fairly in Egypt are correct.
The Egyptians may not have had relevant skills to anything but they did know how to make money out of others and 4 inspectors were employed bu Getty for most or all of the 10 years. What they did is irrelevant – they maintained Egyptian dignity, when awake.
Their Supremo standards must be unbelievably low because in 60 years there is not a single record of one of their staff being promoted to London, Turin, NYC, Paris, the Getty or anywhere further down the pole. They claim to be the world experts in Egyptology yet not one of their hundreds of thousands of staff over the decades has got a job in the west other than cleaning toilets.
The Getty provide an immense free source on general and specific papers on their conservation work on all continents. Significantly they have been looking at climate change and the preservation of ancient buildings for15 years – Egypt isn't interested or isn't equipped.
http://www.getty.edu/conservation/our_p ... /past.html
Of course in Egypt its easy to get tossed out – particularly if you are talented. It's a little bit hard to prove but I'm doing work on this and believe a fair swag of the best Egyptologists were kicked out of Egypt after 1952 by Nasser as dirty filthy Jews/Lebanese/Syrians/ Turks/Greeks/Italians/Brits etc
Fell across this not irrelevant story. Employees of the Supreme Antiques aren't just involved in Pharonic fakes/frauds/thefts but also produce documentation to give fake authenticity to 20th century Egyptian paintings and possibly the actual production of fakes – an innovative business enterprise built on criminal behaviours that aren't as isolated as you might think. This fraud wasn't detected by the Supreme Antiques but by the defrauded relatives of the Egyptian painter – as ever the Supreme Antiques are on top of all problems or are the source of the problem. The fraud was under Hawass – so to speak.
The story also shows how paintings that are acquired by the state end up in very different places but always the places/people you expect who pillage this poor country. Its reasonable to assume that the same happens with Pharonic objects.
https://madamasr.com/en/2015/05/25/feat ... -in-egypt/
I had always suspected that the valuables of the tens of thousands kicked out at short notice after 1952 ended up in uniformed pockets and this is a small glimmer that they were the crooks I believed.
Apparently there has been a large surge in the price of Egyptian paintings from 20's-60's driven by overseas collection\rs whilst rich locals are interested in not much more than their sad, vulgar lives.
We know what the Supreme Antiques don't do – protect the security of buildings, do digs and museums, publish proper research, do any digging at all, don't do much restoration, don't have an inventory of what they own or even of the physical sites they are responsible for, have spent millions on science and scientific equipment but its so bad overseas diggers either send the item overseas or, if the machinery is small, bring the technology in, don't do training of their staff (except if the US pays for it like with Hawass's very expensive Fulbright but oddly the Fulbright has no record of Hawass's funded scholarship a bit like the absence of evidence for his claimed Legion d'Honour), don't talk to any overseas Museums (but see below they will talk to anyone who brings a suitcase), don't hold any conferences, can't design the surrounding sites of any large temple etc and run dirty and chaotic museums that have had the same fixed displays for several generations.
They now have 3 large museums in Cairo, can't work out what to do with Tahrir and have the Fustat Hitlerbunker on Egyptian Civilization running a full Pharonic program and have yet to draw the subject matter boundaries for GEM – Will it cover Roman and Greek or anything after – will it cover pre-history (probably not they don't like pre-history). They can't even describe what they do – other than it seemed a good idea at the time.
Its sometimes hard to know what the 70,000 Supreme antiques do other than draw a wage. Here are some things that USAID is doing to keep all the structures up – I assume others are also picking up the work that the Antiques forgot to do in the last 50 years.
"Many of Egypt's cultural treasures need to be restored and protected, not only from human activity but also from environmental factors such as rising groundwater, which threatens many important sites as well as the homes and health of citizens living around them. Rising groundwater levels are caused by a number of factors, including the rise of the Nile due to the Aswan Dam, leaking sewage and water pipes, runoff, and irrigation. Groundwater rises through the foundations of structures, which weakens these ancient foundations. This groundwater can contain salts dissolved from soil as the water table rises, and these salts promote further destruction of the foundations.
Since 2000, USAID in collaboration with the Government of Egypt has completed six large-scale engineering projects to protect several of the country's most important archaeological sites from rising groundwater including Karnak Temple; Luxor Temple; the major temple sites of Medinat Habu, Amenhotep, the Ramesseum, and Seti I on Luxor's West Bank; Edfu Temple; the Sphinx and Giza Plateau; and Coptic Cairo and the Bab Zuweila Gate of Fatimid Cairo."
And:
"Cultural Heritage and Tourism in Egypt: Current USAID-funded conservation and preservation activities provide training and employment opportunities for semi-skilled workers from local populations, generating economic benefits for those living in and around the project sites. Additionally, the projects improve the capacity and technical skills of archaeologists to ensure sustainability, emphasize heritage awareness and education as critical elements of heritage"
And:
"Groundwater Lowering Projects: Saline groundwater is weakening the foundations of ancient monuments and eroding hieroglyphics and other wall carvings. To help alleviate the problem, USAID supports activities to design and construct groundwater lowering systems at the Kom Ombo temple near Aswan and the Catacombs of Alexandria. USAID's engineering partners identify the sources and quantity of groundwater flowing towards the sites and then design and construct systems that will protect the antiquities from the groundwater. USAID also brings in archaeological experts to work in partnership with Egypt's Ministry of Antiquities to be sure any archaeological information and objects discovered during system design and construction are preserved for posterity. Implementing Partners: American Research Center in Egypt, Camp Dresser & McKee/Smith, and the Government of Egypt represented by the National Organization for Potable Water and Sanitary Drainage; Life of Project: December 2011-July 31, 2018; Total Estimated Cost: $14.8 million; Bilateral Agreement: Sustainable Investment Tourism in Egypt (SITE)."
https://www.usaid.gov/egypt/economic-growth-and-tourism
In addition they have spent $US5 million or so in Alex to save the Catacombs there – not that the Supreme Antiques care a jot for Alexandria.
This is just the projects underway at this moment.
Its odd the country is seeping with engineers, 100,00 or so who claim to have some doctorate in something from some place yet the historical sites and the water table problems need Americans to fix them.
A large, careful and thorough project plan for Tut's tomb – who has seen the like from the Supreme Antiques in 70 years.
http://www.getty.edu/conservation/publi ... graphy.pdf
The range of conservation skills of the Getty is awesome as is the spread of their physical work on nearly all continents. Their generosity is stunning, and they don't jump in front of all media cameras.
http://www.getty.edu/conservation/about ... index.html