Alexander's Tomb.
There have been many promises and rot about the search for his tomb, and not only in Egypt. Lies have also been spread about 'his sarcophagus discovered at Sidon - see below.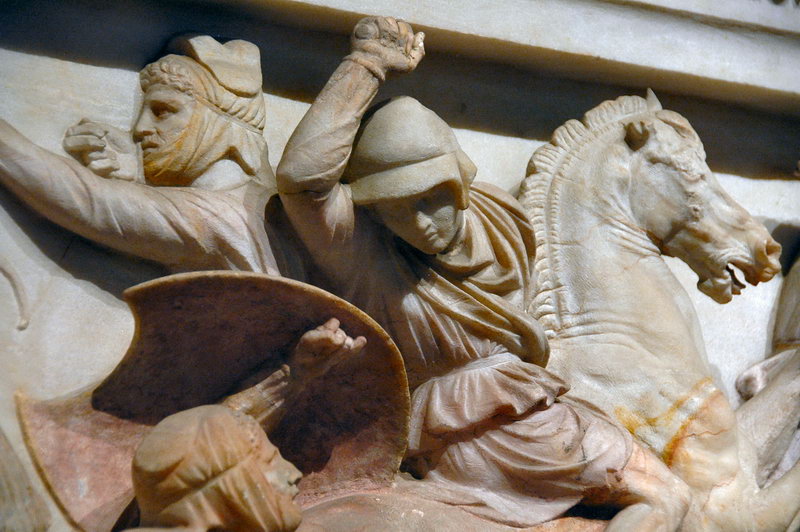 In January a female Greek archaeologist – shock horror by Egyptian standards, has reported on some headway in Alex which illustrates how poor the work, or lack of work, has been in Alexandria to date.
The following is from a National Geographic story:
"For 14 years the Greek archaeologist had been scouring Shallalat Gardens, a public park in the heart of Alexandria, Egypt, for traces of Alexander the Great, the ancient conqueror-turned-pharaoh who gave the city his name….an early Hellenistic statue bearing every hallmark of Alexander the Great (shocking exaggeration a la Hawass)… the Hellenic Research Institute of the Alexandrian Civilization, has dug down 35 feet beneath modern-day Alexandria and uncovered the ancient city's royal quarter…This is the first time the original foundations of Alexandria have been found," says Fredrik Hiebert, archaeologist in residence at the National Geographic Society"
Two points. One, foreigners are doing this work and locals doing little/nothing. Second, this project claims and the Society agrees, that it's the first to get down to the relevant level, not all that far, of the Hellenic period. What have the others being doing.
https://www.nationalgeographic.com/cult ... der-great/
They don't do the work but want all the credit and spoils.
The statue they have found is of artistic quality I've never otherwise ever seen in Egypt and in superb condition in contrast to the pock-marked rot in the permanently closed Alex Museum. The face is more weathered than the rest of the body and this makes it difficult to be certain its intended to be Alexander. Given the skill its certain however that it was sculptured in Greece or by an expatriate Greek sculpturer. Taking Hawass at his word, always risky, it should be returned to the country of its manufacture. Egypt never produced a statue of this realism, humanity, idealism and magnetism – and still can't.
Where this statue will be displayed isn't clear - probably not in the nationalist GEM, nor the provincial and new Museum of Egyptian Civilization and it can't be in Alex where hardly any museum is opened let alone one with all the first rate climate control/lighting necessary for this first rate find from the early Hellenistic period.
Finding a statue which may or may not be Alexander is no proof that he is not buried elsewhere including near the family tombs in Northern Greece – Pella or Vergina. Good luck to her as apparently she is the first to be getting down to the right level in the right place. She mentions no assistance from the Supreme Antiques or Hawass who has poured Egyptian resources into that Dominican Republic lawyer's 10 years of digging west of Alex looking for that third rater, fratricidal and looser, Cleopatra's, tomb. No positive of published results to date but a team of 100 Egyptian workers given free to this female wind bag. Takes one to know one. Dominicia teaches no archaeology but gave Hawass a doctorate from one of its dreadful universities.
The Greek archaeologist publishes yearly reports on her digs – do Egyptian archaeologists do the same in any language for whatever work they actually do
http://www.hriac.com/
to obtain comment, assistance and criticism from learned colleagues? They also 'create of a library containing all the relevant Alexandrian Bibliography….Organizing seminars and congresses concerning subjects of the Hellenistic Period….cooperation with the Hellenic and Egyptian universities for a complete and in detail study….The reinforcement of relationships of Hellenic and Egyptian archaeology scientists….The granting of scholarships to Hellenic and Egyptian archaeology students, for specialized studies based on the Hellenistic Alexandrian Period.'
http://www.hriac.com/2017/04/28/hriac-profile-2/
. Pretty generous for a not rich western country. I wonder what the Dominican rat bag does and where her finds end up?
I wonder if new deals were done with western teams to keep half the spoils whether real work might begin again following the clamp downs from 1924 that, arguably, have led western institutions to take fewer risks and commit less money. In this case this woman and her team have taken 14 years to dig 35 feet – that's only just over 2 feet a year.