It's not about religion, or at least it shouldn't be. As British Muslims and Jews deride recent calls for an end to halal slaughter – the slitting of the throat of an animal before being slaughtered – let us look at why ending this practice would be good for the animals, and the globe.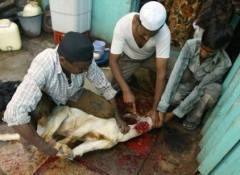 It is easy to attack animal rights activists over their continued use of charged language, but looking closer at the issue of halal slaughter, we can see our world as the progression of compassion that has a root in both Islam and Judaism.
Religious groups are quick to cry foul, saying the new law is an infringement on their religious rights, but animal rights advocates have come out in support of the bill, which they say will reduce unnecessary cruelty in today's modern world. Those activists are right.
But Muslims and Jews, who make up a substantial minority in the UK, have strongly denied that their methods of ritual slaughter cause the animals any harm or unnecessary pain. They have joined forces in condemning the new legislation, which they claim is politically motivated. A rare coming together of Muslims and Jews.
In Holland, we have seen legislation to end halal slaughter create widespread anger among Islamic groups, and while we should abhor anti-Islamic and anti-Jewish sentiments, the calls for an end to this "kosher" method of killing really isn't about religion, despite some critics.
Massoud Shadjareh, the chairman of the Islamic Human Rights Commission, said that "the Islamophobic atmosphere in the Dutch parliament has provided the sort of environment where ludicrous legislation like this, which has been proposed by a party holding only 2 of the 150 parliamentary seats, has a chance of being passed. People are being persuaded to lend their support to this legislation not out of a genuine commitment to animal welfare, but rather out of their hatred of the Muslim community."
Michel Courat, farm animal policy officer at Eurogroup for Animals, supported the effort to end halal slaughter in Europe.
"This is a major step forward for animal welfare and we urge all of the 26 other European Union member states to follow the example of the Dutch government," he said in a statement commenting on the Dutch effort.
"It will be possible for religious groups to get an exemption, but only when they provide indisputable proof that their alternative method will not cause more harm to animal welfare than pre-slaughter stunning."
Scientists have long debated "halal" and "kosher" slaughter and recent evidence suggests that the "draining of blood from an animal from its neck causes unnecessary suffering and prolongs the death process," as a European Union study reported in 2008.
The Islamic body for non-stun slaughter in the United Kingdom has lashed out at the Dutch government's new bill, also claiming the decision was based on political considerations and emotions.
The Association of Non-Stun Abattoirs (ANSA) has expressed dismay at the ban, pointing to scientific evidence suggesting that shechita and halal have been proved to be among the most humane methods of slaughter.
It called into question the belief that stunning animals prior to slaughter decreases suffering and urged all concerned to consider the evidence before jumping to "premature conclusions."
ANSA spokesperson Mohammed Saleem said: "This is a retrograde step that contravenes Article 9 of the European Convention on Human Rights, which provides all citizens a right to freedom of thought, conscience and religion."It is against all concepts of democracy, tolerance and freedom of rights."It absolutely sends the wrong message about Europe to the rest of the world, and especially the Muslim world. In a time of worldwide upheaval and troubled relations between the West and Muslims, this is a dangerous move that could provoke a backlash."
At the end of the day, this is about the cruelty inflicted upon animals by people irregardless of their faith. Groups that attempt to hijack what is a bill that will largely end a practice that has no place in modern societies anywhere in the world are attempting to bring religion into a matter that is not about religion. The people who proposed the bill and supported it are right. Think of your neck. Think of any animal you pass on the street and ask yourself: is that an appropriate way to die? Let's hope the answer is no. Animals have rights and it is time to support them.
Religions should not promote unnecessary cruelty. Religion is about compassion and tolerance. This is why supporting an end to halal slaughter is Islamic and Jewish.
Source: http://bikyamasr.com/68382/why-banning- ... als-world/