Women join forces to fight back after being conned by scheming foreign grooms.
Michelle Nawar, Kirsty Carmichael and Elaine Davison are part of a club of wives who say they were conned by men who disappeared once they had UK residency
They all married exotic younger men who promised eternal love – and were left alone, humiliated and out of pocket.
Now Michelle Nawar, Kirsty Carmichael and Elaine Davison are fighting back as part of a club of wives who say they were conned by scheming foreign grooms who disappear from their lives once they have UK residency.
They are battling not only unscrupulous men who prey on women like them, but also the stigma surrounding a situation they say could happen to anyone.
Michelle, 48, set up campaign group Stop UK Marriage Fraud after being taken in by an Egyptian man 10 years her junior.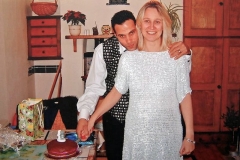 She said: "A lot of people think women who fall for these scams are just silly and naive, but that's not true.
"We hear from teachers, managers and business owners who have ended up seriously out of pocket and had their hearts broken by these men.
"It can happen to anyone. Unless you've been in the same situation you can't judge those involved."
Michelle and other women exchange stories on her secret Facebook page, joined by invitation only. Some 260 women have signed up in the past 18 months, as well as 20 British men.
Victims are often left thousands of pounds poorer by the men but, because no law has been broken, there is not much they can do about it.
"It's not unusual for the men to run up massive credit card bills because they know they're going to vanish once they have full residency or a passport," Michelle says.
"Then there's the cost of bringing them to Britain in the first place. A fiancé visa costs around £1,000. Then you need to support them until they are allowed to work. It's basically legal scamming.
"Once women put their husband's names on shared documents there's very little they or the police can do."
The group is calling for new laws that would see the men prosecuted for fraud then thrown out of Britain.
Michelle claims the very system set up to stop immigration scams helps the tricksters get into Britain.
"Your partner can only stay in the UK for six months before you have to make the decision to marry him or let him go," she says.
"The fact he isn't allowed to work on a temporary visa also means you're more likely to get married as you can't afford to keep living on one wage."
There are no official figures to reveal the extent of the problem. Some 530 people were linked to "sham" marriages from January to March last year, but most are thought to relate to weddings where both the bride and groom know the union is fake and money has changed hands.
Michelle says: "If a couple exchange money to get married illegally then the law comes down on them like a ton of bricks, so why are men conning woman allowed to walk away scot free?"
The women are now planning to demonstrate in their wedding dresses at Parliament for a change in the law.
Source and more stories:
http://www.mirror.co.uk/news/real-life- ... ck-3149883