Divorcee who spent £10,000 bringing her Egyptian toyboy husband to the UK after a whirlwind romance says he 'dumped her and admitted cheating after he got his visa'.
A divorcee who claims she spent £10,000 bringing her toyboy Egyptian husband to the UK has revealed he dumped her after he admitted he was cheating on her - and told her she had to go.
Lucy Manley, from Cardiff, Wales, hit it off with Abdy Aly, 28, in June 2009, while she was on holiday in Sharm el-Sheikh - six months later, the couple wed after a whirlwind romance.
Lucy, 32, says she worked hard to raise the money to pay for Abdy to be able to live in the UK. However, in 2013, after receiving the news that he would be allowed to stay, Lucy says their relationship began to change - and she says she discovered he was having affairs with two other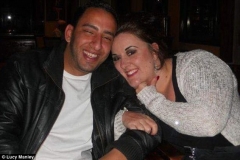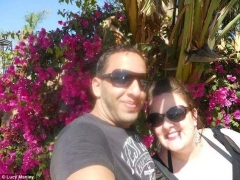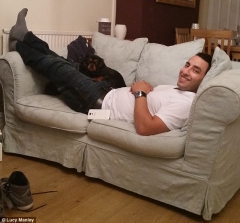 The trainee teacher said Abdy, 28, told her he had been having sex with another woman and announced Lucy had to go because 'it was too stressful to juggle two women'.
Then Lucy, who was dumped on Valentine's Day last year, says she found out he'd also been sleeping with a neighbour.
Lucy said the undying love pledged by Abdy seemed to run out around the same time that he was granted leave to remain in the UK. Although there is no evidence to suggest the two are connected.
Abdy denies the claims and said he never had affairs with other women, but said that he had only admitted to cheating on her to get a quick divorce
Lucy said: 'I loved Abdy so much but now I'm not sure if what we had was ever real.
'I worked so hard to get him the papers to live in the UK because I wanted to grow old with him. I'd ­excitedly planned our future together.
'But he repaid me by betraying me in the most awful way on what was supposed to be the most romantic day of the year.
'He didn't even apologise when he told me he'd been cheating.
'I was crying so hard I could hardly breathe but he simply moaned that he found it all too stressful.'
Speaking about meeting Abdy in 2009, Lucy said: 'He wasn't my usual type.
'At first, I thought he was a bit rude. But there was something about him which attracted me.
'He teased me quite a lot, but I liked it. We didn't kiss but we exchanged email addresses when I left.'
The pair emailed constantly for three months and in one message Abdy asked her to marry him. Lucy visited again in the October.
'We talked about marriage quite early on,' Lucy said.
'Abdy brought it up and I got swept along. I counted down the minutes until I had enough money to fly back to Egypt. When we shared our first kiss, it felt so special.
'He spent the rest of the holiday begging me to marry him and telling me we were destined to be together.
'At first, I told him I couldn't marry but I got caught up in the fairytale .'
Lucy's friends begged her to think carefully but she was determined to wed Abdy and did so on December 1, her next visit.
'It was nuts but I was convinced he was the one for me,' she said. She admitted being surprised the ceremony was at a register office and not a mosque.
There was no romantic proposal, no ring and instead of a white gown Lucy wore a casual blue dress.
She said: 'Our wedding day wasn't at all romantic. There were problems with our paperwork, so we got there just as the office was closing.
'All the lights were off but Abdy was ­determined we marry there and then. We had to sign the marriage certificate by the light of his brother's phone.
'When we got home to his parents' house, it was a real anti-climax. I ended up going to bed early. It wasn't how I imagined my wedding day.'
Lucy devoted the next two years to the fight to get Abdy permission to join her in Cardiff.
His first application was turned down. Home Office ­officials told Lucy she'd have to prove she could support her husband.
She worked two jobs to raise £6,000 to show that she had the necessary finances. Lucy saw Abdy 10 times in the two years - she flew out to him each time.
Lucy said: 'I was absolutely exhausted. I was working in a sales job by day and in a taxi office at night.
'Some days, I'd be out from 8am until 2am the next day but I convinced myself it was worth it if Abdy and I could be together.
'With what little I had to spare, I flew to Egypt and we had a precious few weeks together.'
In 2011, Abdy was finally allowed to come to the UK on a temporary basis after Lucy forked out £4,000 for fees and the services of a top solicitor.
She recalled: 'When I picked him up from the airport I felt nervous.
'We'd only spent a few weeks together and now we were going to be a married couple. But when I saw him, all of my fears melted away and he wrapped me in a huge hug. We got home and were quite emotional.
'For the next two years, we were like any other couple. We enjoyed weekends away and meals out and we spoke about having children.'
In October 2013, they received the news they had waited almost four years to hear: Abdy had been given ­permanent leave to remain in the UK.
Lucy said: 'I was ecstatic and felt so relieved. It had taken so much time and money. I had tears in my eyes but Abdy didn't seem as excited.
'Over the next few weeks, he became cold and distant. He started to stay out all night and refused to say where he was going.'
It all came to a head on Valentine's Day last year after Lucy found texts from a woman called Helen Joyner on Abdy's phone.
He claimed she was just a pal, but finally admitted the truth – he'd met Helen, 49, from Bristol, when she was on holiday in Egypt and had seen her on and off ever since.
'I wasn't expecting flowers,' Lucy said. 'But I never expected he'd be so cruel as to say our marriage was over on Valentine's Day. I was devastated.'
A week later, Lucy said she received a call from Helen, and claimed she told her she had rekindled her holiday fling as soon as Abdy was given permission to stay in the UK permanently.
Lucy said: 'We discovered there were times he'd dropped Helen off at the airport in Egypt and picked me straight up. It was sickening.'
After going through heartache, Lucy says she had another surprise in store - when she spotted her husband's car outside a neighbour's house.
When she confronted him, she said Abdy admitted sleeping with their neighbour Jen Allen, too.
Lucy applied for a divorce last July and it was granted on the grounds of Abdy's unreasonable behaviour. Lucy says she is now trying to move on with her life.
She said: 'I still want my happy ending. I'd love to marry again and have the family I dreamed of with Abdy.
'I was happy to be single this ­Valentine's Day. But it's going to take time before I can trust a man again.'
Speaking about Lucy's allegations, Abdy denied he had had affairs with the two other women. He said he had only admitted to cheating on her to get a quick divorce.
'I did not admit the affair because it happened, just so we could move on,' he said. 'I admitted it quickly so that the divorce would happen quickly.'
He also accused Lucy of being a 'drama queen' and said that they were 'no good for each other'.
Helen Joyner claimed she met Abdy in Egypt around the same time Lucy did. She said: 'I shouldn't have been messing around with a married man. Lucy was really hurt by this and was falling apart.
'I was sucked in. I really regret it. But Lucy and I have ended up as friends. I took her along to court for the divorce hearing. She didn't have anyone else supporting her so I was just honest.'
Helen Allen said: 'I met Abdy in Egypt around the same time as Lucy. He always said he didn't want to be with her.'
Jen also claimed she had an affair with Abdy saying it went on 'for a couple of weeks'.
Source and more photos:
http://www.dailymail.co.uk/femail/artic ... -visa.html