Am I mellowing - two posts in the jokes section today!
Couldn't resist this though - from the Guardian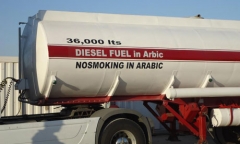 Hey you! No smoking in Arabic! Can't you read? No prizes for working out what happened here. According to Sahil Anand, who first posted the photo to Facebook: "A contract company out here [in Egypt] was asked to stencil on the side of a fuel tanker: Diesel Fuel in Arabic and No Smoking in Arabic. This is what came back." If only we knew the Arabic word for "fail".