I did a bit of shopping at Kheir Zaman supermarket last night, I paid my shopping bill and the cashier handed me my receipt and said you got 18LE free, I think he meant I got 18.55LE discount on the items I bought.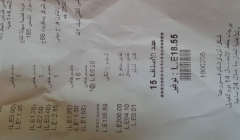 I am wondering if this is a special promotion by Kheir Zaman supermarket or something that the government announced a few months ago that prices would be reduced the last 10 days of the month?
-----------------------------------------------------
"Consumer goods prices to be reduced at the end of each month, supply minister promises.
Minister of Supply and Internal Trade Mohamed Abu Shady announced an initiative on Tuesday to reduce the prices of consumer goods in the last ten days of each month by 40 percent so as to alleviate the impact of the current recession."
Source:
viewtopic.php?f=3&t=32988
-----------------------------------------------------