Special deal for a 5 night dahabiya cruise starting on the 7th December 2013. Price per person 2000le (normally 5700le). Pick up from Luxor to the boat in Esna and full board included. Leaving the boat in Aswan and then dropping off at railway station for return journey to Luxor.
Entrance fees to El Kab, Edfu, Silsila and Komombo not inc.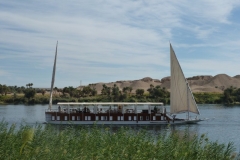 Contact
info@nilesailing.com
for further details.
Dahabiya Africa.
http://www.nilesailing.com